Monitoring and IT documentation
The failure-free operation of the IT infrastructure is an important factor for the success of a company. Without IT systems, most business-critical processes cannot be carried out, which often results in declining customer satisfaction or falling sales figures. Network monitoring is therefore an important part of network management. It is used to monitor systems, components, events, protocols, services and other provided services. Depending on the company's specific requirements, monitoring can be used internally or externally.
IT monitoring is essential
The IT infrastructure is constantly exposed to various dangers. System failures, crashed services, interface and transmission errors - the list can be continued endlessly. Monitoring detects these problems immediately, displays the malfunction as a warning and, if necessary, proactively reports it to the responsible personnel. As a result, troubleshooting can often begin before end users notice the problem.

A monitoring system obtains the necessary information in different ways. Often, so-called agents can be installed on the target systems, which collect information about the systems and send it regularly to the monitoring. Alternatively, various protocols such as DNS (Domain Name Service), WMI (Windows Management Instrumentation) or SNMP (Simple Network Management Protocol) can be used to obtain information about systems and configurations.

The need to constantly monitor systems and services has already been recognized by most companies. The most efficient way to do this is by using a suitable monitoring solution, where all information about systems and services is collected. Why shouldn't this extensive information also be used automatically in the CMDB to complete the documentation with highly up-to-date information? We will show you what great synergies these tools provide together.
Central repository of information
The CMDB forms the central database for all assets. Connected monitoring can update these assets with live data, regardless of whether it is a server, client or service. A failed system is also automatically marked as failed in the IT documentation. This eliminates the need to maintain separate or duplicate data for both tools. All information flows together in the CMDB, where it can be correlated with other assets such as contracts, organizations or people.
Automation
A CMDB like i-doit inherently offers the option to exchange information with third-party tools such as monitoring, discovery or service desk applications via interfaces or custom scripts. This enables the mapping of objects in the CMDB with the monitored systems in monitoring. Information on dependencies and group hierarchies can be fully automated in this way.
Significantly more transparency
IT documentation, as implemented by the CMDB i-doit, provides a complete 360° view of the company's IT environment. At a glance, dependencies and relationships of objects, users and responsibilities are transparently displayed. Through server rack views, room plans and the CMDB Explorer, information is prepared and supports the user by visualizing the available information.
Standardisation
The CMDB as a central information point promotes the standardization of documentation and various IT processes. It can clearly define what information is needed about asset or device types to meet company-specific requirements and establish a documentation standard.
Target/actual comparison
The coupling of CMDB and monitoring tool provides the opportunity to continuously supply the IT documentation with status information. In other words, without having to leave the i-doit environment, live data on CIs from monitoring can be displayed at any time.
Root cause analysis
The complete and complex information of the IT infrastructure is stored in the IT documentation. In the event of a malfunction, the cause can be narrowed down with relatively little effort by analysing the relationships and components. It is also easy to identify systems that are directly dependent on each other. At the same time, you are able to identify alternative routes or redundant systems to temporarily bridge the disruption if necessary.
Getting started with IT Service Management
By combining IT monitoring and a CMDB, you have the foundation to implement IT service management (ITSM). Around the CMDB i-doit, further tools for network discovery and service/help desk can be combined via interfaces to form a complete ITSM environment. On this basis, business processes are supported efficiently and economically by IT.
Monitoring - Finding the right solution
Are you looking for a monitoring solution for your IT? In this whitepaper, you will learn which points to consider without making a recommendation for a specific product. Because we know: A solution must fit you and your company.
Download now!
IT monitoring and the CMDB
All monitoring systems have one goal: to provide exactly the information about systems that is needed. In most cases, however, you not only want to know whether your server is still running, but also whether only individual services or applications are down. The same applies to databases, purchased services or the availability of portals and store systems.
The selection of a suitable monitoring solution always depends on your individual requirements. The connection of a monitoring to the CMDB i-doit is in most cases not a challenge, because besides Checkmk and other Nagios forks also a wide range of other solutions is supported.
However, the requirements should be determined in advance.
Which systems should be monitored in the future?
Which services should be included in the monitoring?
Should performance and capacities be measured?
What other key figures do you need?
Creating more transparency through alerting
No system is infallible. When outages occur, user complaints naturally pile up. The IT department is then busy answering users' inquiries instead of resolving the disruption. It therefore makes sense to inform affected users about disruptions at an early stage. i-doit already offers two integrated solution approaches that can even be combined.
Display service failures directly in i-doit pro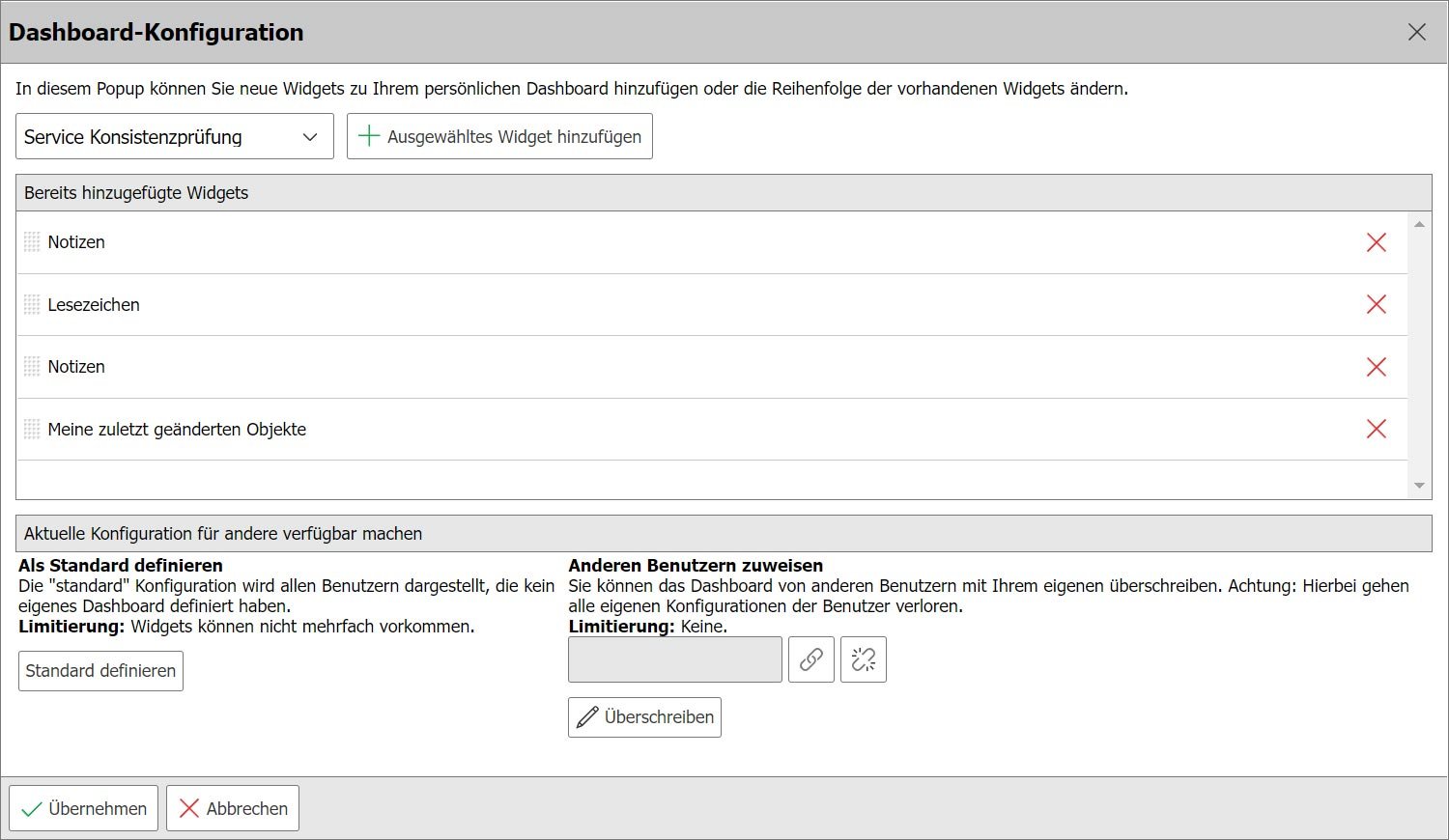 Various reports can be displayed on the i-doit dashboard. These provide information about the status of systems and services. The modeling of services has a clear advantage. Employees with little IT knowledge can recognize when a service is compromised. Do you only reveal the current update of server XY? That is not a clear sign of impairment for these users.

For our example, we add a widget to the dashboard. This contains a consistency check. Here we now select our services. Since there are currently no disruptions to systems, no services are currently impacted.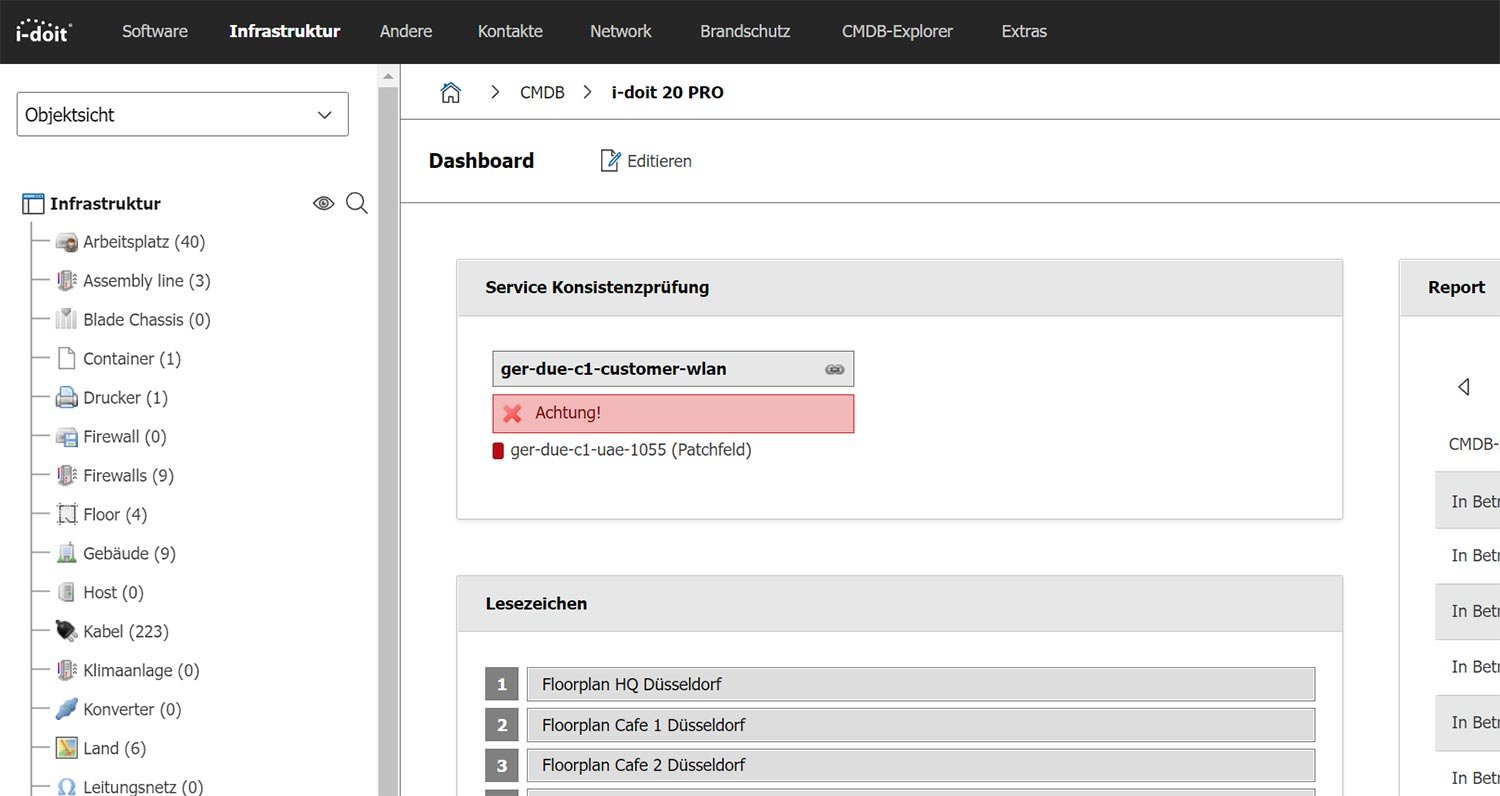 Let's stay with the "guest WLAN" example. For this service to work, we need our trouble-free Internet connection as well as access points and patch panels. If one of these components fails or is disrupted, the service automatically becomes inconsistent.

In this example, one of the access points fails. This causes the "guest WLAN" service to become inconsistent, as one of its components is no longer "in operation". We see the failure immediately on the i-doit pro dashboard.
Through this modeling, all employees immediately recognize whether a service that restricts their work is currently affected by a malfunction. This significantly reduces unnecessary queries to the IT department, which in turn gains more time to resolve the disruption.
By connecting a monitoring solution (such as Checkmk), live data from systems can be collected and imported automatically. This means that manual maintenance of the systems is no longer necessary. As soon as monitoring detects a fault, it changes the CMDB status in i-doit. Learn more about automation, monitoring and tools in our free whitepaper.

For the actual incident reporting and its progress, it is recommended to connect to a service desk such as Zammad. This allows employees to check whether a ticket has already been created and to what extent it has been processed.
Alerting on maintenance of systems and services
Being able to view the status of services and systems in the i-doit dashboard adds great value to IT documentation. In addition, individuals and groups can also be informed about maintenance and faults.

Using the free i-doit pro Add-on Maintenance, maintenance tasks can be created and a selected group of people can be informed about work on the systems.
Informing employees and colleagues about disruptions and outages at an early stage creates transparency. This transparency also reduces new inquiries about the same failure. The result: The IT department gets a lasting workload reduction. More time is available for the elimination of malfunctions. Through the simple modeling of your services, the provision of corresponding service overviews in the dashboard and the transparency thus gained, your employees are always informed. With the i-doit pro Maintenance add-on, you can also inform the affected persons before each maintenance.
Cloud or on-premises monitoring
The selection of a cloud or on-premises monitoring solution depends heavily on your requirements. While the on-premises variant offers you maximum flexibility, it also requires significantly more resources. In addition to installation, operation and maintenance, trained personnel must always be available. The cloud variant is usually obtained as a service from an external provider and this provider takes over maintenance and ensures operation. However, it offers significantly less flexibility and the information is not available if Internet access is disrupted. This disadvantage is all the more serious if the collected data could contribute to troubleshooting.

Our partners will be happy to advise and support you in identifying and evaluating a suitable solution.
Try i-doit pro
With i-doit pro, you not only build a central IT documentation.
You are also introducing a powerful tool that will save you time and money.
And i-doit pro can do much more.

IT documentation
Document every asset of your company.

CMDB
Relate all assets in an ITIL-compliant CMDB.

ISMS
Build a complete ISMS according to ISO 27001.

ITSM
The basis for your business and IT processes and the setup of an ITSM.