The Service Desk and the CMDB
The Service Desk supports companies in handling enquiries, processes and support services. Each process is created as a separate ticket in order to merge all communication for this process. This does not only apply to e-mail traffic, but also to telephone conversations, notes and documents. When a ticket is called up, all activities related to a process are in chronological order. This means that employees can quickly familiarise themselves with new processes if an employee is absent at short notice or support is required.
A powerful team: Service Desk and CMDB
The connection of Service Desk and CMDB brings many advantages. The service desk is a step on the way to efficient digital processes in IT service management (ITSM). In our white paper you will learn everything about the topics "Service Desk", "CMDB" and "IT documentation". There you will also find important information and checklists.
Service Desk - Support in complex IT structures
Why do you need a service desk solution? How can it support your daily work? Why does it have enormous advantages for you if you connect your service desk directly to the CMDB, and what does the service desk have to do with "IT documentation" in the first place? You will find answers to these questions in our whitepaper.
Download now!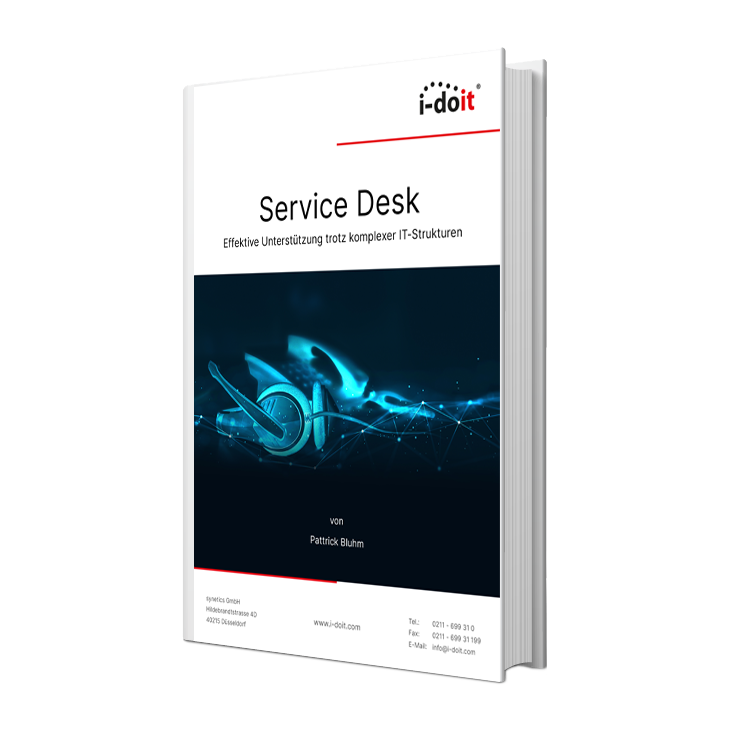 Service Desk for technical support
The service desk is often used to handle support services. Customers can use it to open a new ticket after they have registered a fault. Either the ticket is delegated directly to a free employee in charge or the ticket ends up in a so-called ticket pool from which the service employees select a ticket and take it over. Here, too, the service desk benefits from the connection to the CMDB. Information on the status of systems, licences used and linked systems can be seen directly in the ticket. This can significantly reduce the processing time. Every ticket that has been linked to an asset is automatically linked in the IT documentation. Thus, all tickets, e.g. for a server, are listed chronologically in the IT documentation and are fully traceable. The chronological recording can also be easily realised via a service desk.
All information about a process is compiled in a ticket.
Asset information is directly visible in the ticket
Recording of processing times and response times (SLA)
Transfer of processes to colleagues and employees is significantly simplified
Efficient process design for improved service quality
Increased customer satisfaction through transparency and faster processing of cases
The reasons for changes to systems can be traced at any time
Service Desk for the control of internal processes
The service desk can also be used for internal communication or the handling of standardised processes. For this purpose, process templates can be used to define exactly which departments and persons are to be informed, which contents are specified and which approvals must be made. In this way, e.g. holiday requests, room bookings, material and resource requests, travel expenses or complaints can be handled easily.
Control of internal processes
Define and create standardised processes
Prioritisation of processes
Map releases and escalation levels
Resource management
IT documentation as the first point of contact for problem solving
One of the essential tasks of the service desk is to document and resolve incidents that occur. So what could be more practical than to have direct access to all the information associated with the corresponding system in the event of a malfunction? Ideally, you even have the initial configuration of a system component at your disposal, which you can simply import again. Or at least you know who the contact person is who can help you with more complex questions.
Channelling routine service requests
Many service requests result from planned and thus foreseeable changes or updates. It is therefore only logical that the person responsible for the service desk also uses this tool to inform employees in advance about (maintenance) work. Once they have been informed, many tickets become superfluous. And the time saved here can of course be used to get the systems up and running again as quickly as possible.
Document communication sustainably
Ideally, the service desk acts as a single point of contact in communication with the internal (e.g. department or employee) or external customer. This is where all enquiries converge. Answers take the same route back to the questioner. This process ensures maximum transparency, increases efficiency and reduces further enquiries to a minimum. Thus, it is in the interest of all parties to maintain a smooth and, above all, clearly defined communication flow.
Try i-doit pro
With i-doit pro, you not only build a central IT documentation.
You are also introducing a powerful tool that will save you time and money.
And i-doit pro can do much more.

IT documentation
Document every asset of your company.

CMDB
Relate all assets in an ITIL-compliant CMDB.

ISMS
Build a complete ISMS according to ISO 27001.

ITSM
The basis for your business and IT processes and the setup of an ITSM.